When I was an elementary school student in Setagaya, my neighbor was a French scholar named Mr. Takashi Ninomiya. I often went to his house and talked about the incredible talent of Glenn Gould. I must have been a cheeky kid, passionately lecturing Ninomiya-sensei about how Gould was different than the other pianists; how he could illuminate the structure of Bach's compositions. I was clearly infatuated with Gould at a young age.

I got to know Gould in the first place because my family owned the Goldberg Variations (BWV 988) by J.S. Bach. I immediately became obsessed, much like how I did when listening to The Beatles for the first time a few years later.

When I become obsessed, I imitate. So, all of a sudden, I hunched over the piano and played with my face near my fingers. I remember my piano teacher hit me and with great furor huffed, "straighten your back, Sakamoto-kun!"

Even at the time in Japan, Gould was already infamous. The average lover of classical music would scoff, "that is no real performance!" and mocked the punk impression Gould gave off. Because of this, I couldn't reveal to my piano teacher my burning desire to imitate Gould for fear of being scolded.

In fact, listening to Gould's playing as an elementary school student must have been the first time I came in contact with a sort of, punk attitude. There was a kind of violence to it which allured me. The Rolling Stones would give me a similar kind of sensation thereafter.

Back then, information wasn't as readily available, so I stared at the record sleeve and perused the liner notes. In it I read that Gould's chair made squeaking sounds during his performance, so naturally, I moved around to try and produce such sounds on my own chair.

Still today, I tend to hunch over the piano like Gould…though it's not really good for your back so I try to avoid doing so.

It is actually difficult to play notes loudly while hunched over like that. When your back and arms are straight, it is easier to make a loud bang, but when hunched over, you are, in effect, shrugging during the performance, so the muscles tense up through your shoulders to your arms. Shoulders become stiff and your back begins to hurt.

On the other hand, you can see your fingertips close-up. Perhaps the brain and fingers become more directly linked this way. One certainly increases the distance between the eyes and the fingers when sitting up straight, so I suppose it would be possible to fall into an observational mindset, since one would see his or her own performance more objectively, from afar. Who knows if one is better than the other, but the difference is certainly felt.

2017 is the 150th anniversary of the founding of Canada as a nation-state, along with the 85th anniversary of Glenn Gould's birth. To commemorate this, the Glenn Gould Foundation in Toronto offered us an opportunity to host an event celebrating Gould in Japan. I think they asked me because I have previously curated one of Glenn Gould's compilation albums. I also used the Glenn Gould Studio in Canada to record the soundtrack for Silk in 2007. In fact, I have a photo of myself sitting next to the statue of Gould on a nearby bench.

I always loved Gould since youth and have continued to listen to his music. He influenced me greatly, which is why I would like to use this occasion to give something back.

However, I ran into some problems when brainstorming for the event: there are already so many excellent recordings and documentaries on Gould, as well as a multitude of published scholarly texts on him. It would be difficult to introduce a new angle to such a thoroughly researched and discussed man. I thought to myself: I would have to illuminate Gould's music and performances from my own unique perspective. So, I have decided to deconstruct, remodel, and rework Gould. This is, so to speak, a remix but since there's no way to change a mix, I have been opting for the terms "remodel" or "rework" instead.

I hope to introduce Gould as never before. What I want to do, in other words, is to have fun with Gould. So, I put a call out to my friends and artists to remodel/rework Gould's music with me.

First, I reached out to Carsten Nicola (aka. Alva Noto) from Germany and Christian Fennesz from Austria. These two musicians are old friends of mine who I have collaborated with on various occasions. I asked them if they liked Gould, and of course, they both knew and loved him. I assumed as much since Gould is famous amongst those in the field of contemporary art and music, but my friends' love and respect for Gould exceeded my expectations.

I also reached out to Francesco Tristano, who I have never met, but whose work I have been quite interested in for some time. I especially liked his album, Long Walk (2012), which he based on a story of J.S. Bach walking 400 km to meet a famous musician named Buxtehude. Needless to say, Tristano is a skilled classical pianist, but his artistic vision extends beyond his technical proficiency—he is able to capture music from a fascinating perspective, beyond the classical world, collaborating with artists in the Detroit techno scene for example. Therefore, I have always seen him as a fresh voice in the world of classical music. He even released a remodel/rework of a piece of my own, "Merry Christmas Mr. Lawrence." So, while the average classical pianist would shrug at the suggestion of remodeling/reworking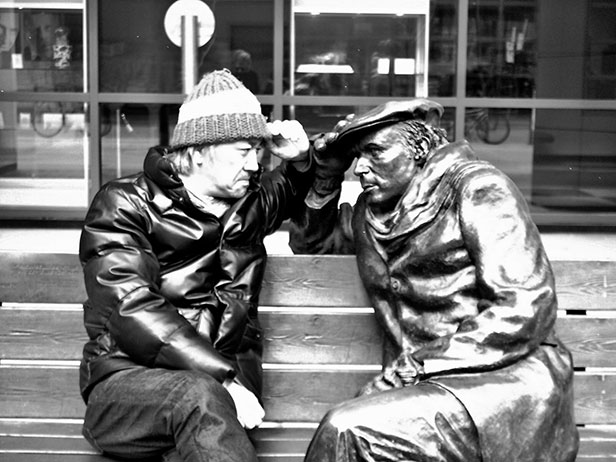 Gould's work, I thought Tristano would be up to the challenge. Of course, he replied with a yes when I offered.
I'm thrilled to hear how he and the others plan to remodel/rework Glenn Gould. Each artist will do so freely, so every interpretation will be completely different. Even I will not know what will come of it until we begin rehearsals. In any case, I am very excited.
We will perform this remodel/rework concert five times over the period of three days between December 15th through the 17th at the Sogetsu Hall. During each show, the four artists mentioned above will be featured in turn, like a renga, performing their individual remodel/rework with support from the other three musicians.
As for me, I will probably perform something by Bach, which of course Gould is famous for, and then incorporate a few of my own pieces. Gould, who is Canadian, has produced a documentary film entitled The Idea of North. In it, he presents the cold climate and the snowy white landscapes of the north as an integral part of his mind. So I saw fit to remodel/rework his work through the framework of the north. My music will fit in as a component of this, with the hope of connecting Gould's landscape with that of Andrei Tarkovsky's, whose films I adore.
I will also be exhibiting a sound installation in the entrance of the Sogetsu Art Center from December 13th through the 17th using Noguchi Isamu's sculptures. I will be using them as sound instruments to make music with—they sound amazing ☺.
Additionally, Loscil, a Canadian artist, will be performing live in the lobby from the 15th to the 17th. Since the celebration is also of the 150th year of Canada, I thought we ought to have a Canadian play. So, I asked my friend and musician, Taylor Deupree who also owns the label 12k, to introduce me to Loscil. He makes fantastic ambient music.
We will also be hosting some talks. On the 15th, I will be talking to Junichi Miyazawa, a music critic and a leading Glenn Gould scholar who I'm grateful for helping me with the aforementioned compilations. On the 16th, I will talk to Ichiro Yamaguchi from Sakanaction, known for his love of Gould, and Susumu Kunisaki, editor of Sound & Recording Magazine. The 17th will be a discussion session between Mr. Miyazawa and Akira Asada. Though I won't be speaking, I look forward to this day since Mr. Miyazawa is a truly dedicated expert on Gould. During this final talk, I plan to be a member of the audience, watching from the sidelines.
There will also be a screening. Gould loved the Japanese film Woman in the Dunes directed by Hiroshi Teshigahara. Teshigahara founded Sogetsu-ryu, so the connection to the space is almost providential.
There was one more thing I had hoped to exhibit: the English version of Natsume Soseki's novel, Kusamakura. Gould loved this book and even read passages from it on-air in Canada. (We hope to make this recording available to attendees.) Apparently, he wanted to adapt Kusamakura into a radio drama or an opera. His copy of the book was meticulously underlined in red and blue—a fascinating insight into his mind. However, it was lost while touring in an exhibition commemorating him after his death. It would have been the perfect item to exhibit, showing his relationship to Japanese culture, but alas, what's lost is lost.
There's something I realized when conceptualizing this event: as a performer, Glenn Gould shocked audiences around the world with his bold interpretations of the original classical compositions. Isn't that a kind of remodel/rework in its own right? He went beyond the intentions of the composer, illuminating the melodies and structures of the pieces, which may have been unrecognized even to the composers themselves. Some performers swear by the composer's intentions and on this matter, there is no right or wrong. However, as a composer myself, it would bring me joy to hear someone express something about my music beyond my own original intentions. A gardener would be happy if an unexpectedly beautiful flower bloomed, incidentally bringing forth the underlying charm of the garden.
I imagine that if Bach heard Gould's performance, he would have smiled and mused, "I didn't see that coming." So, I hope I will have curated reworks/remodels that would have put a smile on Glenn Gould's face. My hope is for these reinterpretations to draw out a never before heard beauty in Gould's music. So please, look forward to it.
Edit: Eiichi Yoshimura
* "Glenn Gould Ryuichi Sakamoto Selection A journey to the Polar North" (2008),
"Glenn Gould Ryuichi Sakamoto Selection The Art of J.S. Bach." (2009)