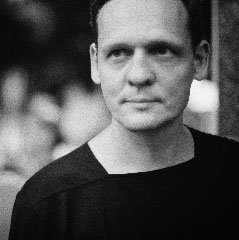 Carsten Nicolai
aka Alva Noto
Born in Karl-Marx-Stadt, 1965.
Carsten Nicolai is one of the most renowned artists working at the intersection of art and science and is infamous for his minimalist approach. He is part of an artist generation who works intensively in the transitional area between music, art and science. In his work as a visual artist Nicolai seeks to overcome the separation of the sensory perceptions of man by making scientific phenomenons like sound and light frequencies perceivable for both eyes and ears. His installations have a minimalistic aesthetic that by its elegance and consistency is highly intriguing. After his participation in important international exhibitions like documenta X and the 49th and 50th Venice Biennale, Nicolai's works were shown worldwide in extensive solo and group exhibitions.His artistic œuvre echoes in his musical outputs. Under the pseudonym Alva Noto he leads his sound experiments with a strong adherence to reductionism into the field of electronic music creating his own code of signs, acoustics and visual symbols. Diverse musical projects include remarkable collaborations with Ryuichi Sakamoto, Ryoji Ikeda (cyclo), Blixa Bargeld or Mika Vainio. Nicolai toured extensively as Alva Noto through Europe, Asia, South America and the US. Among others, he performed at the Solomon R. Guggenheim Museum in New York, the San Francisco Museum of Modern Art, Centre Pompidou in Paris and Tate Modern in London. Nicolai co-scored the music for Alejandro González Iñárritu's film, 'The Revenant' which has been nominated for a Golden Globe, BAFTA, Grammy and Critics Choice Award.
For GGG - Glenn Gould Gathering, Alva Noto collaborates for this very special event with german singer Carolin Gennburg aka Nilo(voice, humming).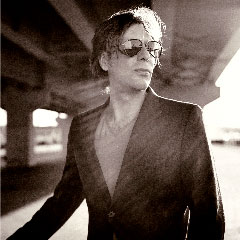 Christian Fennesz


Born in Austria, 1962.
He is know from his own particular musical world as well as his impeccable work in creating beautiful compositions for guitar. Somewhere between concrete music, classical and ambience sounds, he stretches musical resources and effects to create melodies and atmospheres that fuse classical and orchestral concepts with conceptual musical research and complex digital structures. He has been recording and also performing with Ryuichi Sakamoto and playing live with Keith Rowe, Sparklehorse, Mike Patton and many others.
Fennesz and Sakamoto released a collaborative album entitled "cendre": "Ryuichi Sakamoto and Christian Fennesz blend the unstructured and imaginative qualities of improvisation with the satisfying sculpture of composition. Sakamoto's piano, his style reminiscent of Debussy and Satie, perfectly complements Fennesz with his powerful blend of shimmering guitar and passionate electronics." Fennesz's guitar and laptop live set demonstrate why he remains one of the most engaging musicians using electronics. His treatment of the laptop and guitar allow each to give up its identity to the other, exquisite guitar washes loosing their specificity to the crackling textures of the laptop. Live guitar chords become loops on the laptop and he constantly shifts between contradictions and possibilities of each.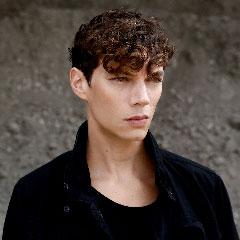 Francesco Tristano


Born in Luxenburg, 1981.
"Music is music". This is what Alban Berg responded to George Gershwin in Paris during the spring of 1928, as to why there was no distinction between what we consider "educated" music and "popular" music. Francesco Tristano has endorsed this quote over the last decade with his work; combining piano and synthesizer, between the scores of Johann Sebastian Bach – and also Frescobaldi, Berio, Buxtehude, Stravinsky, and Gershwin, among others – and the latest production and sequencing tools.
Francesco Tristano is an artist of many talents: pianist, composer, techno and jazz musician, combining eras, genres and styles in his music. Francesco has become a key reference in a new movement which explores the creative intersection between classical and electronic music, homogenising it in a natural way which unites audiences from various worlds into his own universe. Tristano often collaborates with important names in different genres such as Derrick May, Carl Craig and Michel Portal to name a few.
Tristano has a growing discography. As of today he released 13 albums. His last work 'Piano Circle Songs' featuring Chilly Gonzales, marking his debut with Sony Classics in September 2017, is a recording which explores the gentler, more innocent side of his creative personality with simple, poignant melodies being the key creative impetus.